Annual Reenactment of the Battle of Monmouth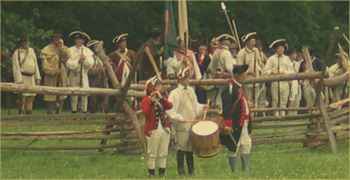 Each year the Friends of Monmouth Battlefield co-sponsors, with the DEP, State of New Jersey, an annual reenactment of the battle. The event is usually held on a weekend towards the end of June, in commemoration of the anniversary of the battle being fought on June 28, 1778. Hundreds of troops encamp at the park and recreate scenarios of the battle over the weekend. There are also numerous presentations and lectures, tours of the camps, and sutler area open to the public. A donation of $8.00 per car is requested to attend.
2012 REENACTMENT OF THE BATTLE OF MONMOUTH CANCELLED
We regret to inform you that the 2012 annual reenactment of the battle of Monmouth was cancelled in mid-January by the State.
Throughout preparations for the construction project, plans have gone ahead to have the reenactment as usual in mid-June, though we were aware the actual site would have to be shifted away form its usual spot on the north slope of Combs' Hill, due to the construction project.
Plans to have a modified reenactment were supported by the Park staff, several reenactor groups, and by the Friends.
However, in January authorities in Trenton decided to cancel the reenactment.
Plans are to have a large reenactment in 2013 to celebrate the completion of the new Visitor Center and commemorate the 235th anniversary of the battle.